Muzzleloader, Muzzleloading, Big Bore Rifle, Big Bore Muzzleloader, Double Rifle, Muzzleloading Double Rifle, Side by Side, Side by Side Muzzleloader, SxS Muzzleloader, Large Bore Muzzleloader, Muzzleloading Double Rifle, Muzzleloading Side by Side, Muzzleloading Rifle, Black Powder Rifle, Black Powder Muzzleloader, Black Powder Double Rifle, Custom Muzzleloader, Custom Big Bore Rifle, Custom Double Rifle

| | |
| --- | --- |
| Posted on May 6, 2009 at 12:16 PM | |
| | |
| --- | --- |
| Posted on May 5, 2009 at 10:31 AM | |
Load development and sighting:
I went out to my range this morning while the weather was nice and calm. I started at 25 yrds working up a load, and then moved back to 60 yards for sighting in. 60 yards was the customers requested distance. Which is actually a very classic distance, 60 yards corresponds to the measurement of 10 rods which was a traditional British distance for big bore rifles.
The Target pretty much speaks for itself:
250 grains of FFG is a little on the light side for an 8 bore, but you'll notice it is sighted in a little low, this will give my customer the ability to work up to a heavier charge and bring it up to the bullseye.

| | |
| --- | --- |
| Posted on May 4, 2009 at 5:16 PM | |
I'll make a long story short here for those who have been following along with this build. I sent this out to be engraved because I felt that the wildlife was beyond my engraving skills, it was shipped the third week of January. The engraver I sent it to had other work in front of it and wasn't able to get to it for a few weeks. When the time came to engrave this action he had equipment problems, and needless to say the company providing him with replacement part made a considerable mess of getting him the correct parts and up until two weeks or so ago he was still broke down. I finally recieved it back today. He did an excellent job, and even embellish the engraving beyond the original drawings I sent. I would be out working up a load and sighting this in today but by the time I got it all back together the wind has picked up and it is sprinkling rain. Not the best weather for working up a load and sighting in a muzzleloader.
Without further ado or rambling on my part here's the pictures: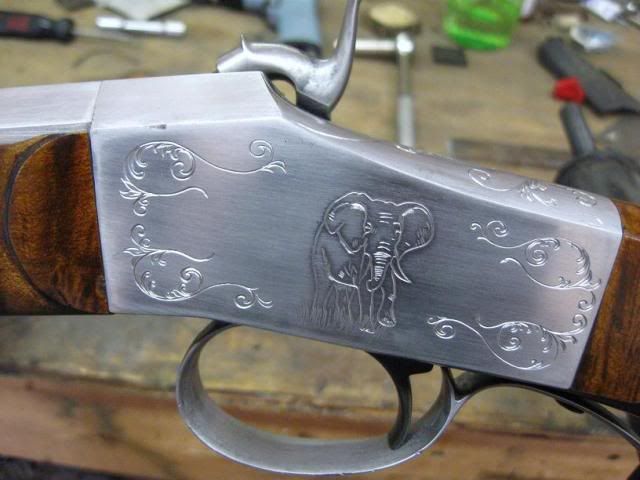 Left Side
Right Side
Top of the action
TriggerGuard
And then I engraved my signature on the top barrel flat in front of the rear sight base at the customers request.
Hopefully tomorrow the weather will cooperate and I can get the sight work finished and then on to the bluing. My customer has been very patient with the several months delays in getting this project finished and I know he will be anxious to get it.
| | |
| --- | --- |
| Posted on February 1, 2009 at 10:24 PM | |
| | |
| --- | --- |
| Posted on January 26, 2009 at 5:38 PM | |
Bluing the Small Parts
As I've mention in previous posts, I've been polishing the metal in between finishing the stock. So today since I had all the small parts polished up and I don't like leaving them around to rust in between now and when I finish the rest of the build, I Rust blued them and oiled them today.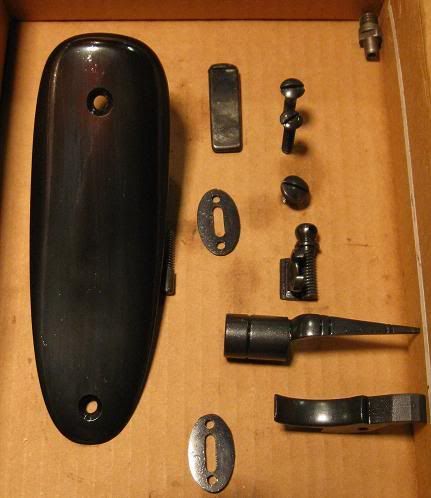 These parts are ready as soon as I finish the rest of the build and I don't have to worry about repolishing due to rusting while I work on the rest of it.

| | |
| --- | --- |
| Posted on January 23, 2009 at 12:20 PM | |
Stock Finish part 2
This part of a build doesn't make for very impressive updates, it's a lot of the same over and over again, wit very little change to show for it. With the staining done, I have moved onto hand rubbing an oil finish into the stock. It currently has 8 hand rub coats on it, with probably 10 or 12 more to go. The pictures really don't do justice to this wood. It has a beautiful figure and depth the camera just can't capture. The weather today isn't being very friendly so I couldn't get it out in the natural light.

In between coats on the stock I have continued to polish the steel. Sorry no pictures of the steel at this time, they are just shiny anyways not much to look at yet.
| | |
| --- | --- |
| Posted on January 16, 2009 at 8:02 PM | |
| | |
| --- | --- |
| Posted on January 14, 2009 at 7:10 PM | |
| | |
| --- | --- |
| Posted on January 11, 2009 at 10:35 AM | |
Stock Shaping
With all the major furniture pieces inlet, I then went to work on shaping the buttstock yesterday. I started by bandsawing the sides down slimmer. Then I went after it with hand planes, chisels and rasps, then files. It's still very rough right now but it's starting to look like a rifle.


| | |
| --- | --- |
| Posted on January 9, 2009 at 7:13 PM | |
Buttplate
I moved to the back of the rifle today and inlet for the buttplate.
The screws are just temporary fit-up screws, they will be countersunk and replaced with finished screws later. The top is a little proud of the wood still, that will leave me a little metal to shape into the stock as the wood gets worked down.